"Little Bay de Noc Trophy Walleyes"
by Captain Darrell Mittlesteadt
It's been a long hot summer, but it's finally starting to cold down. The days are getting shorter, the nights are getting longer, the temperature is slowly working it's way downward to the fall averages. It's time to start thinking about trophy walleyes and there is no better place to catch them than at Little Bay De Noc.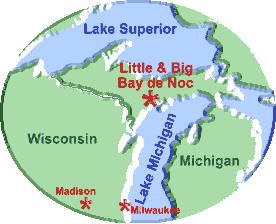 Where is Little Bay De Noc?
Little Bay De Noc is a body of water which is the extreme northwestern part of Green Bay. It stretches from Escanaba, Michigan to Gladstone, to Rapid River. It covers an area of 32,000 acres or 50 sq. miles.
Although Little Bay De Noc has great walleye & smallmouth fishing starting May 15th when the fishing season opens its like I said earlier, October means trophy walleyes. From the first part of October until the Bay is covered with ice trophy walleyes are abundant.
These walleye can be caught using any one of several methods. Jigging live bait or spoons, drifting crawler rigs, trolling crawler rigs or trolling crankbaits. Probably the most effective for these trophy walleyes is trolling crankbaits over deep water.
Contrary to what most people believe, trolling has to be very exact if you are going to be effective. Where you troll is only a small part of the total presentation. Water temperature, water depth, lure depth, lure color, lure size, lure action, speed of presentation, direction of presentation, wind speed, wind direction and surrounding structure all play important parts in how effective trolling will be for you.
Water Temperature and Depth:
Temperature is a key factor involved in locating walleyes. It controls the depth fish are in and where oxygen and food are. Depth is very important when trolling for large fish. Large basins with areas of uniform depths are vital. Most trolling for walleyes is done in 20 to 40 feet of water.
Lure Depth, Color, and Action:
Lure action and color has to match the forage at the time. The most effective lure you have will be the color and have the right action to trigger a strike. Depths may have to be changed several times a day, your lure has to be kept in the strike zone. Adjust your bait depth to the depth of the fish.
Speed and Direction of Presentation:
Speed changes the depth and action of your lures. Direction is important only when the wind is involved. Trolling with the wind makes it much easier to control your boat, plus the action of your lure is enhanced by wave action working with your planner boards. They surge forward, then drop back with each wave. The wind speed affects your trolling speed, at the same time it affects the size of the waves and the action of your lures.
Like I said before, successful trolling is not as simple and as easy as it may seem. It takes a lot of good equipment and experience. For equipment I use Fish-On Rod Holders, Lamiglas 7' 6" trolling rods, Shimano Line Counter Reels, Cortland Cam-O-Flage line for backing and leaders, Cortland Kerplunk Lead Core line, Off Shore planner boards and snap weights. I use all quality equipment, I don't want to take any chances and let the big one get away. The lures I use are not quite as easy. The assortment of crankbaits available is mind filling. There are shallow running, deep diving, fat bodied, thin bodied and more colors than you will ever believe. To be consistent and ready for all conditions a big assortment is needed. Storm lures the most popular and consist, they also have a great selection of different trolling baits and colors available.
If you want information on what baits and techniques are currently "hot" on Bay de Noc, feel free to follow the links and contact any of the Bait and Tackle Shops in the area.
Visit Captain Darrell's web site at: http://www.captaindarrell.com